Climate & Environment

Terresterial Biodiversity

Climate Change
AXA Projects
United Kingdom
Risks to the stability of carbon in tropical peatlands experiencing deforestation and drainage: Quantifying greenhouse gas exchange in response to change
Tropical wetlands boast several significant claims to fame—for better or for worse. They shelter not only some of the richest biodiversity on the planet, but also one of the biggest reserves of greenhouse gases (GHGs), locked away in the vegetation and soil. At the same time, these ecosystems are among Earth's most vulnerable to climate variability, long-term climate change and human alteration of the environment. Their proximity to some of the most densely populated, fastest-growing economic regions, as in Indonesia, puts them and the rest of the planet at risk: when wetlands are drained and deforested for human use, they are more susceptible to fire, which, in turn, can release huge amounts of carbon into the atmosphere. The effects don't stop there, though, and Dr. Vincent Gauci aims to find out what happens next when these essential reservoirs of climate gas are disturbed.
We already know that GHGs are emitted from tropical wetlands both by air and in the water, as carbon leaches into rivers from the soil. Yet, how this plays out in the wake of deforestation and fire has been little studied. Dr. Gauci believes that, by overlooking this GHG escape route, we are significantly underestimating how much reaches the atmosphere, where it may contribute to climate change. His team has developed techniques to measure the GHGs – in this case, carbon dioxide and methane – escaping at the water's surface and from a little known methane emission pathway, tree stems. Their current project on the island of Borneo will determine the contribution to atmospheric levels of these gases, versus how much remains in the water, where it may head, instead, into the deep ocean.
Dr. Gauci is comparing these measurements across wetlands in different states of transformation, from pristine to deforested and burned. Data collected so far demonstrate that there are significant differences in the amount of carbon dioxide being emitted from channels draining wetlands in different states of transformation. By precisely quantifying the impact of human transformation of the land in these important, productive ecosystems, Dr. Gauci's team is producing knowledge that could prove vital for policymakers deciding how and where land will be used by people or, on the contrary, preserved.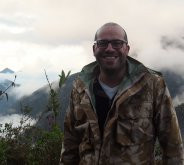 Vincent
GAUCI
Institution
The Open University
ORCID

Open Researcher and Contributor ID, a unique and persistent identifier to researchers
Carbon in the Air and Water: When Tropical Wetlands are Transformed