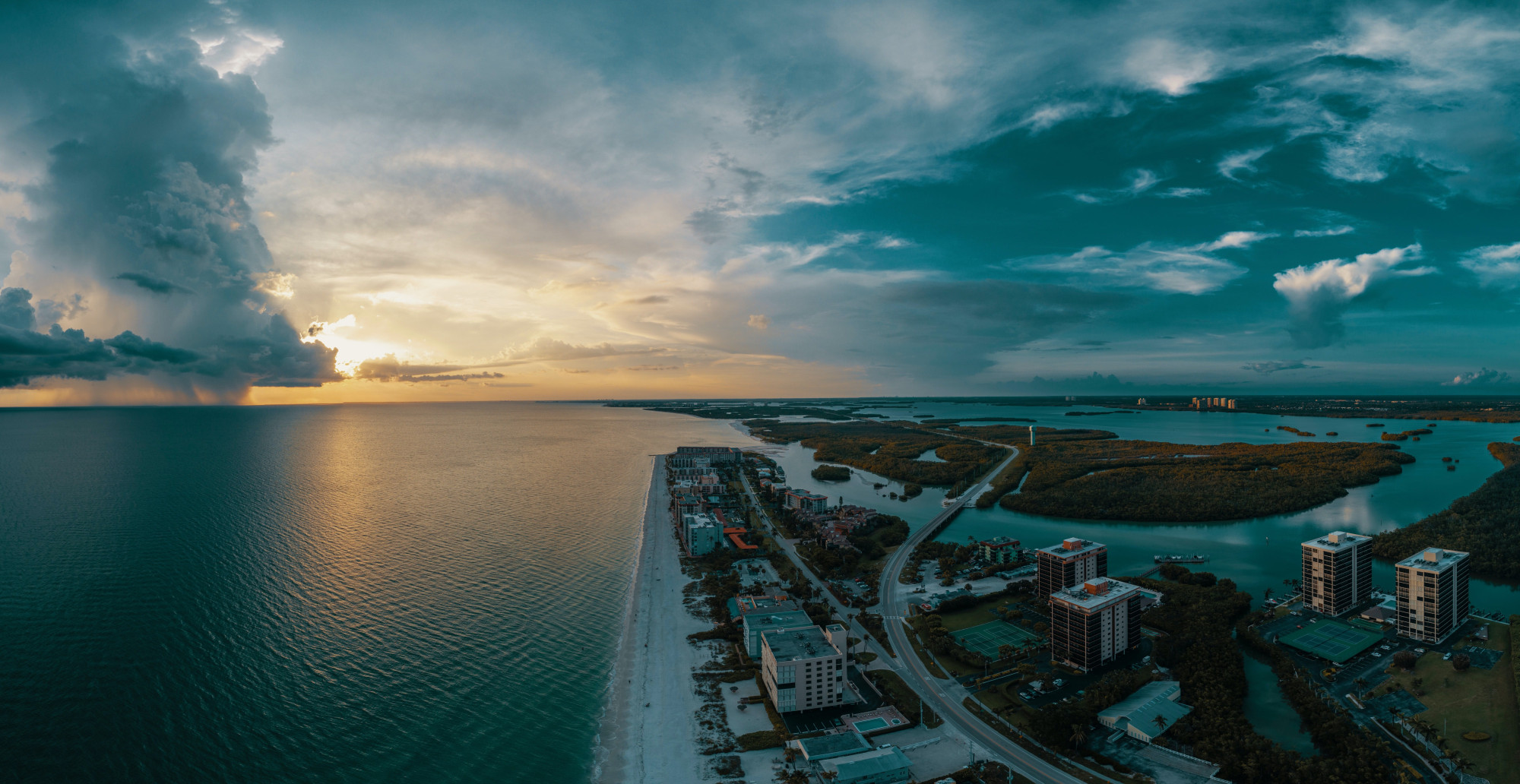 New AXA Chair at UC Santa Cruz to Build Coastal Resilience Naturally
MEDIA RELEASE FROM THE UNIVERSITY OF CALIFORNIA AT SANTA CRUZ - Dec 1st, 2020
AXA Chair at UC Santa Cruz Funds Efforts to Build Coastal Resilience Naturally
Marine scientist Michael Beck was awarded the chair to support his work on natural defenses to enhance coastal resilience to flooding, erosion, and sea level rise 
SANTA CRUZ, CA—Global insurance company AXA has established the AXA Chair in Coastal Resilience at UC Santa Cruz to support the work of Michael Beck, a research professor in the Institute of Marine Sciences and the Department of Ocean Science. The AXA Research Fund provides the award of €1 million ($1.19 million) over five years to support Beck's efforts to advance the conservation and restoration of coastal habitats as natural defenses against storms and climate change.
Climate change and development are degrading coastal ecosystems and increasing the exposure of communities to risks from flooding, erosion, and sea level rise. According to Beck, however, investments in coastal defenses have focused on construction of seawalls, breakwaters, and other artificial structures, while neglecting the value of reefs and wetlands as powerful natural tools for reducing coastal hazards.
"Coastal habitats such as coral reefs, marshes, and mangrove forests can serve as a critical first line of defense," Beck said. "Despite the valuable coastal protection benefits these ecosystems provide, they have been undervalued and lost at a rapid global rate. They are now some of the most threatened marine ecosystems on Earth."
For two decades, Beck has been leading groundbreaking research to rigorously quantify the social and economic benefits of reefs and wetlands. These efforts and the global partnerships he has built have influenced government agencies, the insurance industry, and development banks to begin considering how their funds could be invested in habitat conservation and restoration to reduce future risk and build resilience.
"The AXA Chair in Coastal Resilience will allow me and my team to expand our research to identify the most cost-effective opportunities to invest in ecosystems for coastal protection and to provide valuable insights for influential organizations, from the insurance industry to the World Bank," Beck said.
The AXA Chairs are the premium funding scheme of the AXA Research Fund, and Beck is the first to hold such a chair at a U.S. university. "The new AXA Chair in Coastal Resilience will help mitigate the losses from major climate-related hazards and open the way to innovative approaches to better link insurance and the longer term conservation of ecosystems," said Marie Bogataj, head of the AXA Research Fund and Foresight.
With over $300 billion paid out by the insurance industry for coastal storm damage in the last ten years, protecting and regenerating existing natural capital is one of the critical components of disaster risk management and climate adaptation in countries that often lack the financial resources to fund relief, recovery, and post-disaster reconstruction efforts.
Chip Cunliffe, AXA XL's director of sustainable development, said, "For over a decade we have been focused on building resilience and understanding ocean risk. Mike Beck's leadership and knowledge is second to none, and his expertise will help us integrate these protective ecosystems into our coastal risk index and aid the development of potential new risk transfer mechanisms."
An ecologist by training, Beck noted that it is not common for scientists in his field to work with the insurance industry. "I'm one of the few, but we really can do so much interesting work together," he said.
He first began working with the insurance industry after a policy colleague and negotiator at the United Nations Framework Convention on Climate Change suggested that the insurance sector would be interested in his research on coastal protection.
"A real turning point was when we went to the insurance risk modelers and said we want to understand your models and how to put habitat into them," Beck said. "Instead of telling them to look at our new ecological model, we wanted to learn to use their models to speed up the acceptance of natural defenses by the industry."
Beck's research as a marine ecologist led him to work increasingly at the interface between marine science, policy, and management action. He spent 20 years with the Nature Conservancy, helping to establish a global marine program and serving as lead marine scientist. He has held various affiliations with UC Santa Cruz over the years and now leads the Coastal Resilience Lab at UCSC.
"Mike Beck's work fuses a deep knowledge of natural systems and an understanding of policy and economics to offer tangible, sustainable solutions to the challenges facing coastal ecosystems and the communities that depend on them. It's emblematic of the work we aim to do at UC Santa Cruz and the type of training we seek to offer our students," said Anne Kapuscinski, director of the Coastal Science and Policy Program and professor of environmental studies.
In the past few years, Beck has led three global collaborations, producing several major reports and scientific publications that make a strong case for the role of natural habitats in providing coastal protection. This work has shown that the flood reduction benefits provided by coral reefs, mangroves, and marshes can be rigorously quantified and valued, that restoration of these habitats can provide cost-effective defenses, and that insurance products can be aligned with ecosystem-based strategies.
For the World Bank, Beck led a team of economists, ecologists, and engineers to develop approaches for valuing the coastal protection benefits of reefs and mangroves. He also led a two-year working group on coastal defenses that quantified the annual benefits provided by coral reefs and mangroves at local, national, and global scales. With support from Lloyd's of London, he led a work group to assess how nature could be incorporated in industry risk models.
Building on this work with funding from the AXA Chair, Beck aims to bring about meaningful changes in the approaches to hazard mitigation worldwide. He wants to see hurricane disaster recovery funds support reef and wetland restoration, using new data on the cost-effectiveness of natural defenses. In working with the insurance industry, he aims to get nature better included in industry risk models and incorporated into innovative new products such as reef and resilience insurance to reduce risk with natural defenses. Beck also hopes to see the natural defense values of habitats included in national economic indicators such as gross domestic product (GDP).
"The good news is that reefs and wetlands can recover, and even adapt, if we identify the resources to manage and restore them," he said. "Large-scale funding could be available for these coastal habitats if we can measure and communicate their benefits and cost-effectiveness for coastal protection."
VIDEO
Presentation of the Coastal Resilience Lab
Watch here
PROJECT PAGE
Find out more about the AXA Chair on building coastal resilience naturally
Read here