Health

Medical Treatment & Drug Development
Post-Doctoral Fellowships
France
Viral engineering for the treatment of neurogenic detrusor overactivity due to spinal cord injury: proof of concept study
Spinal cord injury causes bladder dysfunction and particularly incontinence. This debilitating condition is the leading cause of morbidity and re-hospitalization of paralyzed patients, and the current treatments are not fully satisfactory. Dr. Pierre Clément is studying the feasibility of introducing genetic material into the nervous pathways that control the bladder, using harmless viruses. This study is a first step towards the development of gene therapy for bladder hyperactivity due to spinal cord injury.
This researcher is also supported by the Garches Foundation.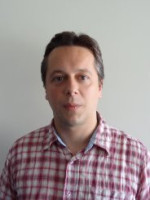 Pierre
CLEMENT
Institution
Fondation Garches
Curing bladder hyperactivity in spinal cord injured patients using gene therapy?