Health

Pollution & Health

Food & Nutrition
Post-Doctoral Fellowships
France
Investigating the Impact of Glyphosate on Health: The Role of Gut Microbiota
Despite its widespread use in agriculture and farming, glyphosate is undoubtedly the most controversial herbicide. Over the last few years, human exposure to glyphosate has significantly increased, which raises a concern about potential adverse effects on health. A recent study on mice demonstrated that glyphosate-exposed mice present a significant dysbiosis, defined as an alteration of the gut microbiota composition. Exposure to contaminants could lead to the loss of beneficial microbiota, resulting in a physiological imbalance and the development of long-term metabolic diseases such as Type II Diabetes or fatty liver disease. However, the metabolic consequences of the glyphosate-induced microbiota imbalance are still unknown.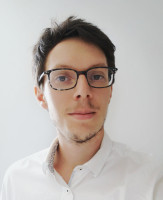 Lauris
EVARISTE
Institution
Institut National de Recherche pour l'Agriculture, l'Alimentation et l'Environnement
ORCID

Open Researcher and Contributor ID, a unique and persistent identifier to researchers
Dr. Lauris Evariste aims to investigate the impact of chronic glyphosate exposure on the mouse and human gut microbiota and the consequences on the host's metabolic health, focusing on hepatic metabolism. He will combine in vivo dietary exposure to various doses of glyphosate with contrasting nutritional factors that are either harmful or beneficial for mice's gut microbiota and host metabolism. Translation of findings to humans will be ensured by in vitro experiments testing the effects of glyphosate using small-volume bioreactors that allow simultaneous cultivation of microbial communities in a single anaerobic chamber.
In classical reglementary studies, the gut microbiota and metabolic health are poorly explored endpoints. At the same time, they are relevant for developing several chronic pathologies (including obesity, diabetes, and nonalcoholic fatty liver disease) for which environmental contaminants are suspected to play a role.
The research data will be helpful for agencies involved in risk assessment and NGOs' and consumers' associations, as they will be complementary to the classical toxicological studies. The findings of the studies would inform public health policymaking and possibly pending political decisions regarding glyphosate, a widely used pesticide.
May 2022
Expected start date: Summer 2022
Watch Dr. Lauris Evariste pitch his research project in 3 minutes