Health

Chronic & Non-communicable Diseases

Medical Treatment & Drug Development
Post-Doctoral Fellowships
Italy
From obesity to type 2-diabetes : investigating the immune system's potential role
Over 600 millions adults worldwide suffer from obesity. The fast growing epidemic – the incidence more than doubled since 1980 –, induces a similarly fast growing epidemic of type 2 diabetes, a disease strongly associated with overweight. The combination is thought to reflect an inflammation of the adipose tissue driven by long-term nutrient excess, causing resistance to the action of insulin, and thus high blood sugar. In an effort to contribute to the pursuit of strategies to override obesity-induced diabetes and promote weight loss, Dr. Alessandra Petrelli is investigating the role of the immune system in insulin-resistance. By proving that immune cells play a role in obesity-driven type 2 diabetes and by shedding light on the mechanisms involved, her objective is to pave the way for the development of new non-invasive treatments.
In her project, Dr. Alessandra Petrelli, will be investigating the hypothesis that T cells – a type of white blood cells essential for the immune system –, localized in the fat are endowed with specific properties which are altered in obese patients, causing insulin-resistance. "Growing literature coming from mouse studies is showing that the immune system, including T cells, may be important in the development of type 2 diabetes and, in particular, of insulin-resistance", explains Dr. Alessandra Petrelli. "I aim to discover if the same goes for humans and to identify the molecules responsible for the induction of insulin-resistance".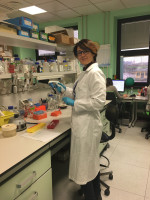 Alessandra
PETRELLI
Institution
San Raffaele Università Vita-Salute
ORCID

Open Researcher and Contributor ID, a unique and persistent identifier to researchers
Understanding the involvement of cells from the immune system in the induction of insulin-resistance
To achieve her goal, Dr. Alessandra Petrelli will work with samples collected from people who undergo bariatric surgery, a term used to designate surgical procedures to induce weight loss in people with severe obesity. Her study will be carried out in 3 consecutive steps. The first one will consist in investigating the features and functions of human T cells in the adipose tissue of obese patients. Second, the immune cells and the adipose cells will be studied in vitro to see if and how they interact in order to unveil eventual links. Finally, the study will seek to find which molecules are involved in the interaction between T cells and the adipose tissue in order to bring forth or develop drugs that can target these molecules.
Being a medical doctor, Dr. Alessandra Petrelli is well positioned to understand the importance of finding strategies to override obesity-induced type 2 diabetes. Obesity currently concerns about 13% of the world's adult population. According to current estimations, by 2030, 1 adult out of 5 will be obese, threatening both developed and developing countries. By aiming to pave the way for the development of a non-invasive alternative to bariatric surgery, Dr. Alessandra Petrelli's study could significantly contribute to the fight against obesity and type 2 diabetes and mitigate the tremendous risks these conditions pose to worldwide health.