Determination of optimal PEP level for speech under patient control in tracheostomized ventilator-dependant subjects
Tracheostomized patients require respiratory support for survival. Marine Garguilo is testing a new device, which, controlled by the patients, allows them to speak more fluidly while avoiding the risk of excessive pressure in the airways.
This researcher is also supported by the Garches Foundation.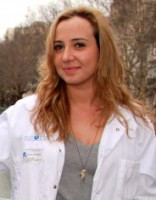 Marine
GARGUILO
Institution
Fondation Garches