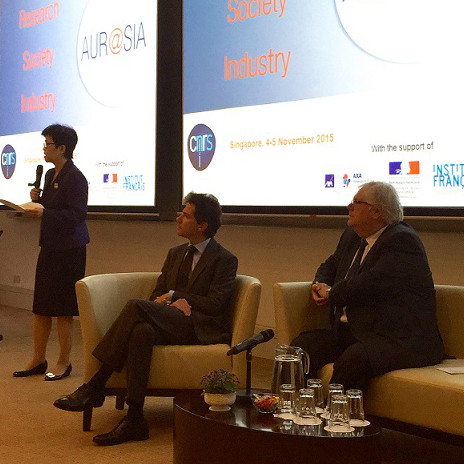 Supporting the CNRS Aur@sia Symposium in Singapore
On 4th and 5th of November, the AXA University Campus in Singapore is hosting the Aur@sia symposium, a meeting organized by the French national research council (CNRS) with its partners in Asia, with the support of the AXA Research Fund.
Aur@sia aims at fostering connections and debates among Asian and French research institutions, as well as industry partners and private foundations on the challenges facing research, society and industry. Intersdisciplinarity, integrating national research strategies with global agendas, the impact of computer sciences and new technologies on scientific advancement, how to better connect science with society- are some of the topics debated during two days by over 100 participants coming from prestigious research institutions such as the National University of Singapore, the University of Tokyo, Indian Institute of Science, and manymore. 
"Pushing back the frontiers of science in Asia through collaboration and innovation is a priority for CNRS", says President Alain Fuchs. "Gathering our 17 joint research laboratories in Asia and opening the discussion with other relevant stakeholders is the best way to move forward. We are happy to have the AXA Research Fund as a partner on our side, supporting the same goals of international mobility and partnership with leading Asian institutions." 
"Being present at this seminar is a way for AXA to demonstrate its commitment to accelerate its support to research in Asia, by explaining our approach and building new connections with the attending institutions. We are convinced that Asian researchers and institutions have an important contribution to bring on major societal challenges such as climate change, food, longevity, cyber risk or robotics. Seminars such as Aur@sia also contribute to promoting the role of science in multistakeholder dialogue and in raising awareness on the role private partners can play to support fundamental research." says Doina Palici-Chehab, CEO of AXA Singapore. 
As of today, the AXA research Fund's support to research in Asian institutions amounts to over 13 million euros in 14 countries.