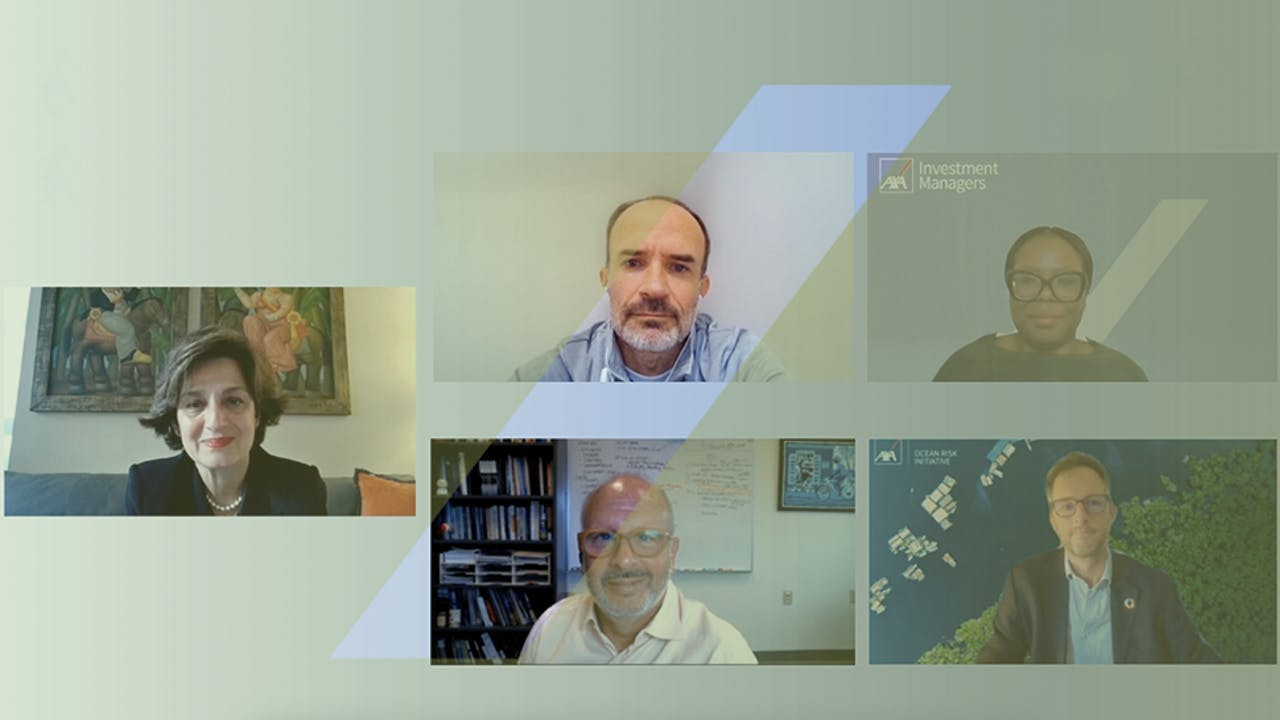 Coastal Resilience and the Role of Nature Based Solutions
Climate change and infrastructure development are undeniably adding to the degradation of the coastal ecosystem such as mangroves and coral...
Climate change and infrastructure development are undeniably adding to the degradation of the coastal ecosystem such as mangroves and coral reefs, thus increasing the exposure of coastal communities to sea-level rise, flooding, erosion, and more.  In a recent Expert Series webinar, the AXA Research Fund brought together leading academic, government, and industry experts to discuss the challenges of coastal risk and the opportunities to accelerate investment in nature-based solutions. 
Moderated by Maryam Golnaraghi Ph.D., Director of Climate Change and Environment, of the Geneva Association, the panel included:
Prof. Michael Beck, AXA Research Fund Chair in Coastal Resilience and Research Professor at the University of California, Santa Cruz,
Chip Cunliffe, AXA XL's Biodiversity Director, 
Shade Duffy, Director of Impact Management at AXA Investment Managers,
Niels Holm-Nielsen, Practice Manager, Global Facility for Disaster Reduction and Recovery (GFDRR), World Bank. 
In her opening remarks, Dr. Golnaraghi stressed that while climate change has had a profound impact on the coastal areas and ecosystems, the land use and development patterns in the coastal regions have led to the destruction of mangroves, wetlands, and other natural ecosystems, which serve as a buffer against tropical cyclones, storm surges, and floods, in addition to many other benefits such as carbon sequestration and habitat for a variety of species.
For more than two decades, Prof Beck's research has focused on rigorously quantifying the social and economic benefits of reefs and wetlands. Now, according to all the panelists, coastal resilience has become a core business and social issue in response to climate-fuelled disasters and risky development.
"While climate change has had a profound impact on coastal areas and coastal ecosystem[s], our development decisions and land use planning has led to degradation of coastal ecosystems, whose very function has been to protect and build resilience in the communities," noted Prof. Beck, mentioning the establishment of the Taskforce on Nature-related Financial Disclosure to bring the risk of nature-based system degradation into core business discussions by defining the related risks.
According to Prof. Beck, "We need to rethink infrastructure investments.  We need to work with nature, not against it.  We need to allocate funds to repair these natural defenses when damaged by storms. We can build coastal resilience naturally to protect people, property, and nature."
In the webinar discussion that followed, our experts looked at how new risk management protections, increased investment opportunities, more data, and public-private partnerships could help move the needle in coastal resilience and community protection.
Insurance solutions
Nature forms a critical component of disaster risk management and climate adaptation in more vulnerable geographies, according to AXA XL's Chip Cunliffe, and not investing in nature could result in significant risk.
Insurance has a critical role in providing that safety net after a disaster strikes. Coral reefs, mangroves, etc, provide that resilience benefit, but they also provide economic and food security, and the tourism dollar. They sequester carbon.
The impact of disasters can take years to recover without assistance. Mr. Cunliffe discussed the development of a few ground-breaking insurance solutions, including an ecosystem interruption insurance product for mangroves integrating the use of parametric coverage, that are being tested to see how they might support resilience and provide cover for the loss of those ecosystems.
To help even more, he mentioned AXA XL's work on a Blue Carbon Resilience Credits and separately on a Coastal Risk Index, currently being developed in partnership with scientific institutions, governments, NGOs, and private sector stakeholders, to quantify the protective benefits of coastal ecosystems and incorporate them into insurance risk models.
Integrating nature-based solutions alongside more traditional coastal defenses will be a critical component of disaster risk management and climate adaptation.
Investment opportunities
Generating greater investment interest was also a topic of discussion.  According to AXA Investment Managers' Shade Duffy, "For many years, we've channeled capital to the most critical societal challenges and in the way that we and all the investors will measure our contribution. We measure it by the positive outcomes that we want to generate.  We also measured financial returns in terms of how we design solutions, the challenges have always been there. Now, we're really thinking about how to channel solutions."
From Ms. Duffy's perspective and in terms of what investors want, there are some valuable lessons to learn but the knowledge base about these potential investment opportunities is growing.  "We need to learn from all the programs out there where issues that are not immediately investable," she said, "but then we build a collaboration of participants around it to make them investable."
This panel is a very great example of how we need to start, Ms. Duffy said, mentioning previous research conducted that could help too. AXA IM released a paper, Defining strategic impact objectives: AXA Impact Fund – Climate & Biodiversity, which illustrated in quite considerable terms what it would cost us.
"Increasingly, the Institutional Investor community is looking to channel capital to the right solutions," Ms. Duffy added.  "What we need is to make sure that we are all working together to structure these programs, take lessons from other investments, particularly around climate change and mitigation that allow us to give a financial incentive to investors such as us to be active, and that is a very important point because we ought, we need to look at where the capital is coming from."
Development help
The panel also discussed how nature-based solutions have the potential to bring not only development impact, but also improve the long-term financial performance of related investments through de-risking the climate hazards around the areas where these solutions are used.
According to Niels Holm-Nielsen, Practice Manager for Global Facility for Disaster Reduction and Recovery (GFDRR) at the World Bank, there has been an increase in demand from clients and donors for investing in nature-based solutions for coastal resilience and more broadly, for disaster risk reduction.  "We looked internally in our own World Bank portfolio over the last 10 years, we have financed about $5 billion in nature-based solutions with a quite rapid increase just in the last three years," he said.  "While this is still a smaller, relatively small fraction of our total portfolio, it's a large chunk of money that goes into nature-based solutions worldwide in the development space." He added that the World Bank's focus to better invest in nature is reflected in the Climate Action Plan and its emphasis on a green, resilient, and inclusive development approach.
Nature-based solutions and investments in climate resilience in general often remain a public good, so governments and development partners have traditionally played a leading role and will probably have to continue playing such a role. But as Mr. Holm-Nielsen explained, there is a potential to create the space for private sector engagement around elements of financing and de-risking. But it's complex. It requires specialist technical knowledge and funding that has a longer-term willingness to stay involved because investments in nature-based solutions is also about management and maintenance after those mechanisms are put in place. Then, there is the aspect of the regulatory and policy level readiness of client countries. Many lack capacity, such as decision-making tools to interpret the potential for nature-based solutions.
More data and collaboration needed
There is also a lack of data around these nature-based solutions. While the work of Dr. Beck and others are contributing rapidly to close some of these gaps, the panellists agreed that a gap still exists. There is a limited amount of investment opportunities for the private sector to engage. The investor appetite is there, however, the mechanics and the flow of capital, are not there yet.
"Investor appetite is clearly there from AXA's perspective," admitted Shade.  "Next year, AXA doubled this budget. So, it's not really about the money. When we talk about nature, we're not just talking about land. It's about having the right investment opportunities."
All agreed that there is a need for the private sector to work alongside the government. Public-private partnerships will help drive progress.  No one can do it alone.  Greater collaboration is imperative. More work needs to be done on risk analytics and in a much more integrated cohesive way to bring the issues down to dollars and cents, which will make a huge difference in realizing the benefits of investing in coastal resilience.
A forward-thinking perspective is also important.  Some investors such as those with in real estate in their portfolio, are starting to see this long-term risk on their balance sheet that they didn't realize.  Extreme events are starting to show on banks and on asset managers' balance sheets and now they are looking at what they can do about it.
Moving the needle with Demonstration Projects
The addition of more innovative demonstration projects will also be critical. In this regard, the World Bank's long-term leadership in catalysing nature-based solutions is critical as is AXA's accelerating leadership in this area. Interest in Nature-based Solutions is growing with a variety of government agencies supporting projects including the US Department of Defense, U.S. Federal Emergency Management Association (FEMA), Transportation departments in a variety of countries, and the U.S. Army Corp of Engineers.
All panellists agreed that there is a lot of new work developing around Nature-based Solutions, but much more needs to happen to help catalyse opportunities at scale. The journey has started but there is a long way to go. The right incentives are needed to give private investors a strong rational to invest in this space.  The World Bank will continue to play a big role and they have recently launched a global program focused on nature-based solutions for climate resilience. This initiative –will help connect science with action, bringing together technical and industry partners with governments and communities on the ground.
In closing, Maryam Golnaraghi summarized that reconsidering our development choices along with restoring and conserving these ecosystems are fundamental to strengthening community resilience to extremes events as well as mitigating climate change and biodiversity loss. A number of key stakeholders from local and municipal governments, to insurers, investors, businesses and multi-lateral organizations by working together can offer the best chance to move the needle in building coastal resilience.   
Full biographies of Pannelists
Marie Bogataj, Head of the AXA Research Fund & Group Foresight  - Event Host
Marie Bogataj is the Head the AXA Research Fund and the Group Foresight Teams. She started her career as an Economist at O.E.C.D. before moving to the private sector with the Boston Consulting Group. She has held Executive positions in the strategy and marketing field with major corporations such as Pinault Printemps Redoute (now Kering) and PayPal Inc. before joining AXA in 2015 as Group Digital Transformation Director. She has been leading the scientific philanthropy and foresights initiatives of the AXA Group since 2018 and is dedicated to supporting and disseminating knowledge in order to better inform public and private decision-making around the challenges and opportunities facing our planet today.
Maryam Golnaraghi Ph.D, Director of Climate Change and Environment, The Geneva Association – Moderator
During the last 20+ years, Maryam Golnaraghi has led and managed transformative multi-stakeholder climate risk initiatives in innovating risk management, finance, insurance and new technologies with significant global impacts. Working with C/suite executives and boards of the global insurance industry, institutional investors, government authorities, regulators and technologists, she mobilizes and aligns the private and public sectors to find strategies and solutions to enable scaled-transitioning to resilient net zero business models. In 2020, she was included in the list of those 'Most Influential on Climate Change' by InsuranceERM and was selected as the list of 100 most influential on "Resilience" by The Leaders' Magazine. She has held senior executive and advisory positions in the private and public sectors, the United Nations and was the founder/CEO of a first-of-its kind start up in climate risk assessment. At the Geneva Association, Maryam works with the largest global insurance companies, leading strategic industry-level initiatives to boost insurance industry's contributions as risk managers and investors to transitioning to resilience net zero economy.
Michael Beck, Research Professor and AXA Chair in Coastal Resilience at the University of California, Santa Cruz
Professor Michael W. Beck is the AXA Chair in Coastal Resilience in the Institute of Marine Sciences at the University of California Santa Cruz. Mike aims to reduce risks to people, property and nature in his work across science, policy and practice. Mike served for 20 years as Lead Marine Scientist at The Nature Conservancy. He has advised government agencies in the US, Germany, UK, EU, Philippines, Jamaica, and Grenada among others. He has collaborated with many global agencies and companies including the World Bank, AXA XL, Munich Re, Swiss Re, Lloyd's of London, Risk Management Solutions, and Jacobs. Mike has authored more than 85 peer-reviewed scientific papers and numerous Op-eds in the LA Times, NY Times, CNN, The Hill, and the Miami Herald. He has been a Fulbright Fellow and Pew Marine Conservation Fellow.
Chip Cunliffe, Biodiversity Director at AXA XL
Chip Cunliffe is Director of Sustainable development at AXA XL, a division of AXA. He established and manages AXA's Ocean Risk Initiative which works to identify innovative insurance and finance solutions to the impacts and implications of ocean-related risk. He is leading the development of a Coastal Risk Index to integrate coastal ecosystems into insurance risk models, working with partners to develop a mangrove insurance product and a separate Coastal Resilience Bond, as well as identifying insurance pathways to prevent Illegal, Unreported and Unregulated (IUU) fishing. Chip co-chairs the Ocean Risk and Resilience Action Alliance that launched in 2019 to incentivise private investment and blended finance into coastal natural capital by pioneering ground-breaking products that help build resilience in vulnerable coastal regions. In 2012 Chip launched AXA's Ocean Education programme - a curriculum-led syllabus for students aged between 7-16, designed to increase ocean literacy and capacity building around the world, and has so far reached 8.5m students.
Shade Duffy, Director of Impact Management at AXA Investment Managers
Shade is Director of Impact Management at AXA Investment Managers (AXA IM), where she leads the impact management and measurement practice for the AXA IM Alts Impact Investing Strategy and the identification of investment opportunities aligned with the strategy's mission to empower underserved people and provide solutions that tackle climate change and protect the natural environment. Shade has more than 20 years' experience in asset management, advising institutional investors on responsible investment, impact investing and corporate governance issues. She was previously Head of Corporate Governance, where she directed AXA Investment Managers' investor stewardship strategy and worked with investment platforms to integrate ESG considerations across asset classes and multi-asset solutions. Shade is on the Advisory Board of the Operating Principles for Impact Management, an initiative focused on building the transparency and credibility of impact investing and providing a framework for investors to ensure that impact considerations are purposefully integrated throughout the investment lifecycle. 
Niels Holm-Nielsen, Practice Manager, Global Facility for Disaster Reduction and Recovery (GFDRR), World Bank
Niels Holm-Nielsen is the Head of the Secretariat for GFDRR, a multi-donor partnership that funds technical assistance and advisory services to improve climate and disaster risk management at country, city and community levels. He has over 10 years of experience as Disaster Risk Management (DRM) Specialist at the World Bank Group. For the past five years, he has been the World Bank's Global Technical Lead for Resilience and DRM, a role which focuses on supporting task teams and managers across the World Bank to achieve highest possible technical quality of the services the World Bank offers its clients related to DRM. Niels joined the World Bank in 2006 as Junior Professional Officer in Middle East and North Africa Region and became Lead DRM Specialist for the Africa Region and Latin America and Caribbean region. Prior to the World Bank, Niels worked for the Inter-American Development Bank where he helped create the corporate policy on disaster risk management and establish DRM as a development practice. He holds a M.Sc. in Political Science from the University of Aarhus, Denmark.
15 October 2021