Spreading the blame: the allocation of responsibility amongst multiple economic agents
Could you be held responsible for something even if your action made no difference to the outcome? "No" is the first answer that comes to mind. However, consider the possibility that JFK was killed by two assassins who shot him simultaneously, and it was later discovered that each assassin's shot was in itself sufficient to bring about JFK's death. Would Lee Harvey Oswald, one of the assassins, now be free from any blame because his action made no difference to whether or not JFK died? In his research, Gerstenberg has found that in group settings, whether or not a person is blamed or praised is not only affected by their own actions, but also by the actions of their group members and the way in which individual actions influence the group outcome. One person's actions can affect another person's blameworthiness…
After Tobias Gerstenberg earned his Abitur (A-levels) in 2004 he began to study Psychology at Humboldt University in Berlin. He finished his Vordiplom (BSc) and continued with an M.Sc. in Cognitive and Decision Sciences at University College London. Since 2009, he has been pursuing his PhD at University College London under the supervision of Dr Lagnado and Professor Chater.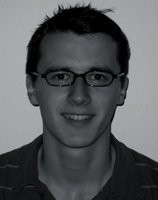 Tobias
GERSTENBERG
Institution
University College London
Blame Softly, Praise Loudly
What has your AXA fellowship brought you?
AXA's generous PhD scholarship gives me the financial security to be able to focus on pursuing my research interests. Furthermore, the well-organised Talent Day made it possible to meet with excellent young researchers and discover the upcoming AXA online community platform, which will help us to keep in touch.

Could you describe your experiences with the AXA Research Fund community?
I had a very positive experience with the entire AXA research fund team. The Talent Day in Paris was a great success. The team showed that they were excited about sponsoring young research talents and made us feel like they cared about our success.

Can you briefly describe what your research project is about?
My research focuses on questions related to the concept of causality. How do people learn about the causal structure of the world? How can they use their causal knowledge to act upon the world in order to achieve their goals? How can we model people's causal representations? Currently, I am exploring Bayesian approaches which aim to provide computational level solutions to the aforementioned questions. Furthermore, I am exploring the complex relationship between causality and responsibility attribution in situations of collective responsibility. How much should an individual within a group be held responsible for a collectively brought about outcome?
To add or modify information on this page, please contact us at the following address: community.research@axa.com