Socio-economy & New Tech

Culture & Society
Innovative Mechanisms for Sustainable Long-Term Care Systems in Europe - EuroLTCS Project

Aging population and austerity measures represent a major challenge to health care services in Europe. How can current systems provide care and pharmaceuticals for more and more people, while at the same time containing expenses ? Compounding these difficulties, citizens' expectations regarding health services are increasing, as better access to information entails the desire to access new and more expensive services. These contradictory trends question the sustainability of current care provision systems, both in Western and Eastern European countries. Dr. Milena Pavlova, a health economist at the Maastricht University in the Netherlands, aims to provide perspective and evidence on good and innovative practices in order to help European societies make informed choices about the future of their long-term care systems.
Although both Eastern and Western European countries are concerned, the dilemmas they face are different. Western societies have extensive long-term care structures established with the support of the state. As governments are pressed to restrict their spending, insuring health and care services for all is becoming more and more of a challenge. In Eastern countries, resources for long-term care institutions are hardly available and long-term care provision is largely family-based. But the decreasing family size and the increasing number of working women are calling for new forms of long-term care. "The families cannot carry the burden of caring for the elderly and the chronically sick anymore. They need other solutions", Dr. Milena Pavlova points out.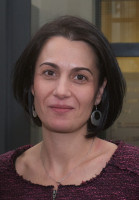 Milena
PAVLOVA
Institution
Maastricht University
Nationality
Dutch (Netherlands)
ORCID

Open Researcher and Contributor ID, a unique and persistent identifier to researchers
Assessing the effectiveness of health care innovations in European countries to provide insight into good practices
"Who should bear this responsibility ? What kind of systems should be adopted ? Should Eastern European states follow the example of Western Europe ? Should they adopt other methods ? How to ameliorate long-term care systems for the elderly ? These are the interrogations I aim to address", explains Dr. Pavlova. To provide answers, she aims to study the innovations in the long-term care systems in European countries that occur as a response to sustainability challenges and to assess their effectiveness against various factors : wellbeing, satisfaction, efficient use of public resources, desirability, applicability, etc. Dr. Milena Pavlova will begin with a comprehensive analysis of the various existing long-term care systems in Europe, taking into account the underlying social, economic and policy-related determinants. She will then focus on how key stakeholders envision the future of long-term care in their country. Lastly, building on the previous phases of her research, she will outline innovative long-term care financing and provision mechanisms, and assess their effectiveness.
Ensuring the sustainability and the equity in access and social cohesion of health care systems in Europe is the ultimate objective of Dr. Milena Pavlova's research. To achieve this, she stresses the importance of evidence-based decision-making in health policy and the need of developing this evidence. With her comprehensive scope analysis of Europe's long-term care systems, Dr. Pavlova intends to provide governments and other stakeholders with information they need to take informed decisions for the future.