Health

Longevity, Ageing & Long-term Care
Chair for a systems approach to individual differences in longevity
Why do some people die at age ten and others at 122? We are not equal when it comes to aging. Understanding what causes this difference between individuals is a major challenge for our greying society, which needs to develop prevention strategies as well as potential targets for treatment and medications.
To face this major challenge, the AXA Research Fund has decided to fund the AXA - Paris Descartes Chair on "A systems approach to individual differences in longevity." The Chair Holder, Prof. François Taddei, winner of several awards (INSERM, EURYI and HFSP, etc.) for his interdisciplinary approach to aging, is particularly well-suited to lead a multidisciplinary project that brings together excellent scientists from different backgrounds.
Using advanced demographic analysis, they are studying the variability of longevity between and within countries to identify which factors are the best predictors of life expectancy. Several elements, such as medical expenditure, socio-economic level and literacy, will be taken into account. Instead of focusing on the mechanisms underlying the diseases that occur more frequently with age—a common approach in biology and medicine—Taddei is looking at the global mechanism of our internal clock, which seems to regulate aging, regardless of external factors.
Taddei and his colleagues are performing fundamental research in animal models to extract relevant mechanisms of aging, in order to explain differences at a molecular dynamics level. They could show, for instance, that even the laboratory's bacteria ages with similar dynamics to humans and many other species. These dynamics, which consist of an exponential acceleration ("Gompertz") phase followed by a plateau, can now be systematically studied to reveal environmental and genetic factors that affect the mortality curve. Their recent work shows that an increase in cellular investment in maintenance significantly delays aging in the model organism. Recent demographic data collected across the tree of life, from humans, animal models and plants, provide insight into the great diversity of aging patterns.
Through lab experiments, Taddei and his team are now exploring the factors that modulate this complexity. Links between the human and animal models have already provided interesting insights. Their research will bring a more integrative view of inter-individual differences in longevity and may contribute to developing a scenario for the future of aging in Europe. "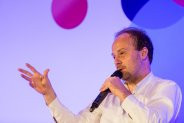 François
TADDEI
Institution
Institut National de la Santé et de la Recherche Médicale
ORCID

Open Researcher and Contributor ID, a unique and persistent identifier to researchers
Explaining Individual Differences in Aging