Health

Longevity, Ageing & Long-term Care
AXA Chair on Health and Human Security
How has Japan achieved the longest life expectancy at birth in the world? Ranked first in terms of life expectancy at birth for women since 1986, recording the highest ever worldwide figure of 86 years in 2008, Japan seems to hold the secret of longevity. Understanding what factors—particularly modifiable risk factors—have contributed to making the Japanese population healthy is important for global health policy, especially for countries struggling to improve public health.
The newly appointed Chair Holder is Prof. Manami Inoue. Awarded by authoritative academic societies in Japan (including the Japan Epidemiological Association and the Japan Cancer Association), she has worked in many prestigious institutions in Japan and gained in-depth knowledge of her country's longevity phenomenon.
The overall objective of her research is to gain a firm grasp of the interplay of selected risk factors in the burden of disease and injury in Japan over the past twenty years. Using comparable methodology and measurement metrics, she will study the distributions of risks across population subgroups based on age, sex, geography and socio-economic status, with a particular focus on aging.
Her results will be helpful for informing policies and programs that aim either to prevent disease and injury or to design responses to current natural disasters, such as earthquakes and their aftermath in Japan, and their effects on health.
Her findings will therefore be relevant for doctors, public health professionals, insurers and government decision makers. They will also be of interest to international organizations such as the WHO, with which University researchers have multiple ties, in generally helping to plan responses to major risks.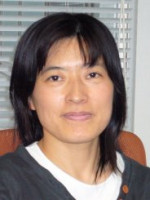 Manami
INOUE
Institution
The University of Tokyo
ORCID

Open Researcher and Contributor ID, a unique and persistent identifier to researchers
Understanding the Secret of Longevity to improve Human Security