Temporal and special modelling of root reinforcement in natural mountains and protected forests
How can we best manage our forests in the face of the challenge of global warming? At a time when our planet is increasingly affected by landslides and erosion – consequences of extreme weather conditions – this question preoccupies many scientists. Among them, Zhun Mao specifically focuses on mountain areas. "These areas are home to many of the world's forests and fertile land," he explained. "Their role is therefore essential in order to feed the growing global population, which should reach 9 billion men and women by 2050."
His investigations aim to better understand how to use plant roots, and mainly tree roots, in order to reinforce soil to protect against landslides. In order to do so, he is studying the development of the root systems of various species, including Norway Spruce, Silver Fir and European Beech, based on samples collected in Chamrousse, a small mountain village in Isère, France. The data will then be incorporated into various models of growth over time and space in order to identify areas at risk as well as areas where the land is reinforced by roots. "The aim is then to determine the best possible combination of species capable of withstanding environmental pressures in the long term," stated Zhun Mao. "This will mitigate soil degradation, which poses serious problems in Europe and around the world."
Such a tool, developed for all types of forests, whether natural, semi-natural or planted, will be used by foresters to help make land-use planning decisions. The results will also be incorporated into an expert computer system, which will be freely accessible online, providing advice on managing areas vulnerable to landslides, erosion and storms.
My research consists in investigating how root reinforcement changes over time and space in montane and subalpine forests, I measure root properties in natural coniferous forests of different altitudes at Chamrousse, Isère, France. Thanks to existing modelling approaches, I will quantify and visualize root reinforcement coupling with spatial and temporal heterogeneity. Finally, based on my model, simulation work will be carried out in order to obtain the optimal scenario of forestry management against shallow landslide.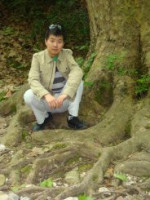 Zhun
MAO
Institution
Institut National de Recherche pour l'Agriculture, l'Alimentation et l'Environnement
Modeling Root Reinforcement