Sources of Risk in Developing Economies
Developing countries are well known both for their huge economic growth potential and for often being hindered on their way to development by natural disasters or civil wars. What if besides humanitarian support, economists could help too?
Building on solid training in economics during her PhD at Oxford University and field experience, which included working for the United Nations in Africa and advising the Guinean Government, Martina Kirchberger is investigating the economic consequences of three types of risk in low income countries: environmental, political and socio-economic risk.
With natural disasters expected to increase because of climate change, understanding their effects on communities is a burning question. In her first chapter, Martina shows that earthquakes have affected labor markets and income growth in Indonesia for more than a decade, notably due to the destruction and sudden drop in demand in the immediate aftermath of the disaster, but also through medium-term reconstruction efforts and increased investment in affected areas.
Martina then concentrates on political risk and costs in the construction sector, a key sector for job creation and post-conflict recovery. Using a unique data set of road construction projects across countries and time, she has found that construction costs increase steeply in the 5 to10 years following a peace settlement. Policies aimed at bringing down costs in the construction sector are vital to remove this bottleneck for economic recovery, in turn fostering political stability.
Finally, she researches child labor, which is frequently used by families in response to shocks, but little is known about whether child labor affects children's bargaining power within families. Martina illustrates that families resemble small market economies in which children who work longer hours are rewarded with higher expenditures.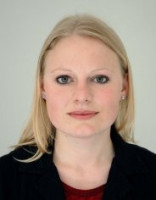 Martina
KIRCHBERGER
Institution
University of Oxford
Earthquakes, Roads and Kids: The Interaction of Risks and Human Behavior
Biography
Martina is a PhD. candidate in Economics at the University of Oxford, where she obtained a M.Sc. in Economics for Development with distinction. Prior to joining the University of Oxford, she graduated with a M.A. in International Relations at the Graduate Institute of International Studies, Geneva, and holds a B.Sc. in Economics and Management from the Free University of Bolzano.
Martina's field experience in the health sector includes working for the United Nations Children's Fund and the Joint United Nations Programme on HIV/AIDS in Senegal, Burkina Faso, Nigeria and Mali. She also worked for Oxford Policy Management in the field of public finance management and undertook assignments with the World Health Organization, the World Economic Forum, the University of Malaya, and the Permanent Austrian Mission to the United Nations in Geneva.
Martina is an Austrian national and fluent in English, French, German, Italian with basic knowledge of Arabic and Spanish.

Research work
The research project focuses on the development of an innovative index-based health insurance product to protect local governments and health facilities against covariant health shocks from changing climatic conditions, food prices and outbreaks of epidemics. Administrative processes, public sector information systems and leakage of public funds present bottlenecks to timely reactions by health care providers. Parametric health insurance would release immediate funding based on easily observable and verifiable triggers. By cutting transaction costs as well as costs induced by adverse selection and moral hazard, index-based health insurance has the potential to offer an efficient and attractive way to provide insurance to the poor.

AXA funding
The AXA doctoral grant allows me to concentrate entirely on my research. Thanks to the travel and research expenses covered by the grant, I will be internationally mobile to ensure exchanges and synergies with other researchers and institutions, attend conferences, and undertake field work. I feel very privileged to be part of the AXA grantees community.