Risk from Volcanic Ash in the Earth System
Over 107,000 flights were cancelled during the 8-day travel ban, accounting for 48% of total air traffic and involving roughly 10 million passengers. The 2010 eruption of the Eyjafjallajökull volcano in Iceland was a succinct demonstration of the vulnerability of our society to the disastrous socio-economic impacts of volcanic activity.
During transport and upon deposition, ash creates a range of hazards over great distances from the volcano and on various timescales. Recent technological advances now permit the thorough study of ash and have for the first time given access to the main processes that take place during the life cycle of ash. Prof. Donald Dingwell intends to map out these processes in a strictly quantitative and physiochemical manner using a series of experiments performed under controlled laboratory conditions.
He will specifically track the mechanisms of ash generation in the volcano, determining the physical properties and the amount of fine material produced during eruptions. He will also study mechanisms of ash alteration and ash aggregation during transportation and deposition, which are mainly driven by the ash's original properties and interaction with volcanic gases. Finally, Prof. Donald Dingwell will analyze drivers of ash melting and sintering processes as well as the inflammatory potential of ash.
The fundamental stakeholder value of the research is the establishment of a new, robust, physiochemical basis for risk associated with volcanic ash. It involves the science of volcanic ash itself as well as the vulnerability of aviation to volcanic ash events. Prof. Donald Dingwell will generate the basis for a reliable dialogue between scientists and societal stakeholders. If he's convincing, he may persuade us to act based on well-constrained prior knowledge.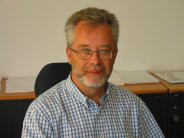 Donald Bruce
DINGWELL
Institution
Ludwig-Maximilians-Universität München
VOLCANIC ASH: FROM ERUPTION TO FLIGHT CHAOS
Discover Pr Dingwell's work through a short video with Dr Corrado Cimarelli who is working in Pr Dingwell's team