Climate & Environment

Climate & Environmental Pollution

Extreme Weather Events
Post-Doctoral Fellowships
Italy
For Better Monsoon Forecasts, Look to Air Pollution
The deluge of the Asian summer monsoon is of great importance to a great many people. The ability to predict it accurately would be, too. Reliable forecasts of where exactly the rains will fall, when they'll start and for how long they'll last would impact the billion people who depend on this vital source of water and the ecosystems it supports. Yet, even state-of-the-art climate models have trouble doing this—possibly because they're missing something. Recent research has revealed that aerosols, coming partly from air pollution, may influence the monsoon season. Dr. Riccardo Biondi intends to test that hypothesis and to find out if the aerosol effect can be predicted. If so, this important parameter could be added to current climate models, improving their ability to forecast the monsoon.
Dr. Biondi will use the atmosphere over the Indian monsoon region as his lab. As a developing country, India's levels of air pollution are currently increasing and, in certain periods, wind transporting desert dust contributes to aerosol levels. These tiny particles of dust and carbon are suspended in the atmosphere where they interact with solar and Earth radiation, warming or cooling the air around them. Collectively, these aerosols may alter the movement of heat within the atmosphere, leading to greater rainfall over parts of India and drought in others. By analyzing concrete atmospheric measurements, Dr. Biondi will first confirm this effect predicted by the models. In a novel approach, he will combine these observations with climate models to search for patterns in the aerosol/monsoon relationship.
If aerosols truly are impacting the regional distribution of precipitation in a predictable way, they will need to be incorporated into existing climate models. This will help Dr. Biondi achieve his ultimate goal of improving monsoon forecasting and even developing early warning systems. He expects that, as aerosol levels increase in the future, they will lead to drought for some areas and flooding for others. Knowing where and when the monsoon will hit is of utmost importance to the local communities whose livelihood it determines. His work will serve other agricultural regions well beyond India, as well, that are at once vulnerable to and dependent upon the monsoon.
Scientific title: Enhanced Monsoon Predictability: Role Of Aerosols In The Troposphere (empathia)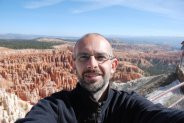 Riccardo
BIONDI
Institution
Institute of Atmospheric Sciences and Climate
National Research Council (CNR)
ORCID

Open Researcher and Contributor ID, a unique and persistent identifier to researchers