Empowering Community Resilience Towards Climate Change Impact in Central Africa Using Technology Enhanced Learning (TEL)
Researchers monitoring the effects of climate change in central Africa could benefit from a mobile phone app allowing locals to record data on water collection points…but would it help Cameroonian women carry that water home for their families? Clearly, the objectives of different parties faced with a changing climate are not always aligned. This could account for the inefficiency of many actions deployed with the intention of reducing climate risks, as seen in Cameroon. The missing element that could help line things up, says Sandrine Sidze, is education, specifically designed for the audience in question and its technology tools of choice.
Sidze's research has already revealed a lack of knowledge about climate change among rural communities in her native country. The absence of meaningful exchange and collaboration between the population, NGOs, decision makers and other stakeholders is the inevitable result. Her research thus focuses on designing and disseminating a model for technology-enhanced public education that empowers the learner. Importantly, it will be adapted to the specific contexts found in Cameroon: the needs, culture, language and capacities of the different stakeholders. Her method will take advantage of technology tools already popular in the country, such as radio stations broadcasting in national languages and community media centers facilitating internet access for rural populations. Sandrine Sidze aims not only to increase the local community's knowledge on climate topics, but to help them, their governments, universities, NGOs – in central Africa and elsewhere – better grasp the connection between their local environment and global issues of climate change and development. The ultimate goal: the collaborative creation of sustainable new habits for all.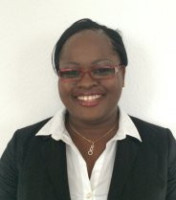 Sandrine
MEGUIENG SIDZE
Institution
United Nations University Germany
Learning to Tackle Climate Change Together