Climate & Environment

Marine Biodiversity

Climate Change
Post-Doctoral Fellowships
Spain
Climate-Smart Strategies to Develop Resilience in Artisanal Fisheries of Mediterranean Marine Protected Areas
This research project is one of the selected projects from the Joint Call for Projects by the AXA Research Fund and the Intergovernmental Oceanographic Commission of UNESCO (IOC-UNESCO) on Coastal Livelihood.
Covering more than 70% of the earth's surface, oceans play a key role in sustaining life on the planet and are vital for human well-being. They provide critical ecosystem services, help regulate climate, generate the oxygen we breathe, and store the excess carbon we produce while significantly contributing to the world's economy. However, oceans are under increasing threat from climate change, as evidenced by variations in temperature, acidification, and sea level rise, all of which are strongly affecting marine ecosystem's health and putting at risk the lives and livelihoods of coastal communities depending on fisheries and other marine services.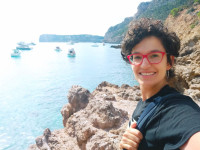 Marina
SANZ MARTíN
Institution
Spanish Institute of Oceanography
Determining the climate risk exposure of marine ecosystems is crucial to develop strategies that will strengthen communities' resilience. Studies have shown that Marine Protected Areas (MPAs)[1] can mitigate the damaging effects of climate change on marine ecosystems, sustain small-scale fisheries and restore overexploited stocks. However, information about the climate risk exposure of marine biodiversity and ocean-based solutions is extremely scarce. Similarly, the design and management strategies of MPAs lack climatic mid- and long-term perspectives. Cost and investment strategies require information to develop adaptation plans to better protect coastal environments and prevent climate damage in the short and long term. Thus, identifying the climate risk exposure associated with these areas is a key asset in developing strategies that will increase the resilience of fishing communities. 
During her AXA fellowship at the Spanish Institute of Oceanography, Spanish National Research Council (IEO – CSIC), Dr. Marina Sanz-Martín will aim to develop adaptive strategies and ocean-based solutions to facilitate climate-smart management of the small-scale fisheries in Mediterranean MPAs. She will assess the climate risk exposure, the connectivity between MPAs, the vulnerability of commercial fishing species in these areas, and their associated socio-economical costs. Dr. Sanz-Martín will also identify potential mitigating areas of climate change that play a climate refugia role, areas where invasive species are likely to increase due to empty niches of climatic migratory species, and areas of increased species movements among other regions.
The research outcomes will address the knowledge gap on MPAs in the Mediterranean Sea, including the climate risk factors to which the commercial fishing species from these areas are exposed and their impacts. This will provide policymakers with relevant information to adopt adequate and effective climate change mitigation strategies, preserve marine resources, and better manage artisanal fishing.
November 2022
[1] Marine protected areas (MPAs) are geographically distinct zones for which protection objectives are set. They constitute a globally connected system for safeguarding biodiversity and maintaining marine ecosystem health and the supply of ecosystem services.