Climate & Environment

Climate Change

Extreme Weather Events
Post-Doctoral Fellowships
United Kingdom
A Storm is Brewing on the Arctic Frontier
A new frontier is emerging here on Earth. As climate change causes Arctic sea ice to melt, entirely new opportunities for navigation, shipping and resource extraction are opening up. This comes at a price, though: storms in the region are increasing in size and strength, likely driven by this same reduction in summer sea ice. Polar climate researcher Dr. Jonathan Day notes the compounding effect this has on the associated risk: "the hazard of extreme Arctic storms is growing in parallel with increased human exposure to them". There is great need for insurance to cover this explosion of activity in the Arctic, but too little is known about the region's storms to assess the risk reliably. This is what makes Dr. Day's work, with its focus on short-term predictions of Arctic climate, so unusual and badly needed.
To date, the necessary information has been lacking, in part because storms at the highest latitudes were of less societal importance, and therefore less studied, than they are today. By utilizing state of the art climate model simulations, Dr. Day will determine the conditions that drive storms in this region. Ultimately, he aims to make predictions about their driver mechanisms possible, and on a shorter timescale than has been done in previous studies. Often research into the relationship between storms and climate tends to focus on the long-term impacts of climate change, focusing on how extremes will have changed by the end of the next century. Much more relevant to decision-makers would be a view on how risk will change over the coming decade. Dr. Day's innovative approach is to explore how these storms vary on decadal timescales with a view to predicting how the hazard associated with Arctic storms will evolve in the near future, a question with an immediate impact on all parties concerned by the Arctic.
Marine traffic in the Arctic has already increased by a factor of ten along certain routes, and industrial activity there is expected to draw some $100 billion of investment over the next decade, according to Lloyd's of London. By helping to clarify how Arctic storms operate and integrating this information into decade-long climate predictions, Dr. Day's research could make an invaluable contribution to decision making in the Arctic, particularly related to marine access and marine insurance, as well as indigenous communities living in areas affected by Arctic storms.

Scientific title: How Will Arctic Meteorological Hazards Change In The Coming Decades?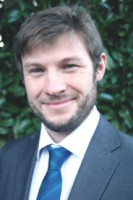 Jonathan
DAY
Institution
University of Reading
ORCID

Open Researcher and Contributor ID, a unique and persistent identifier to researchers